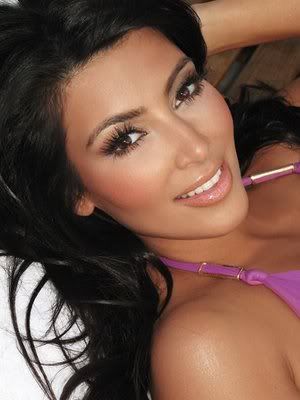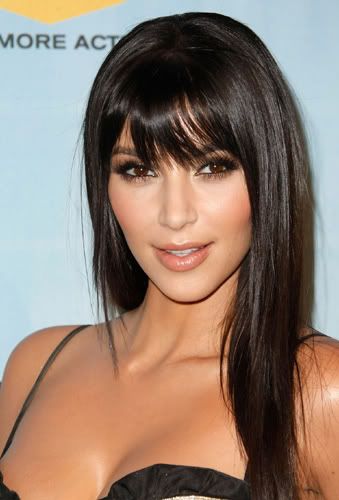 Here are a few tips on how to get Kim's basic look. I've included some personal recommendations that I've seen on shoots and tried myself.
1.
Kim washes her face and applies moisturizer. After this she uses Intuit Beauty Photo Shoot makeup primer.
2.
To conceal imperfections, Kim uses Cle De Peau Concealer Stick in Ocre. I recommend MAC studio Finish concealer in NW 25, tried and tested.
3.
After she applies her concealer, she uses Make Up For Ever Liquid Foundation – she mixes one pump of No.5 and two pumps of No.4. This is a great idea to get your perfect match girls! To blend and apply it for a seamless finish she uses MAC brush 180 (small buffer Brush). A great foundation on the market is Estee Lauder Double Wear foundation, which gives a flawless finish and lasts all day.
4.
Since Kim hates dark circles, after the foundation, she applies a little more concealer just under her eyes. For this step, she prefers MAC Select Moisture cover Concealer in NW30. You can also use your MAC Studio Finish pot of concealer in NW25 for dark circles – it does the trick!
5.
To set the foundation, Kim lightly applies MAC Select Sheer Pressed Powder in NC 30 with a brush. Then to tan it up, she lightly brushes on MAC Select/Sheer Powder in NW 45. Girls you don't have to do both if you don't want to; dusting some translucent powder all over your face to set it, (using a big powder brush) will do the trick.
6.
Kim is 'obsessed with blush' and uses MAC Powder Blush in Gingerly. She also mentions her new love for cream blush, saying that it works better, as it lasts longer. I personally prefer the powder version to avoid looking to 'shiny' during summer days.
7.
Time for the eyes. First she applies MAC Paint Pot in Painterly to the entire lid, using her fingers; this prevents powder eye shadow from creasing. If she is going for a black smoky look, she uses MAC Eye Shadow in Carbon. If she wants a gray smoky eye, she uses Knight Divine or Print. For a brown smoky eye, she likes Embark. For a fresh, shimmery eye, she chooses MAC Pigment in Tan. Kim also does bright eye colours, and loves vivid shadows from Make up For Ever.
8.
Kim always uses black eyeliner. Her favourite is Stila Kajal Eye Liner in Onyx. I recommend the 'Collection Eyeliner' from Michellori, which has staying potential and provides a deep defined colour.
9.
Kim applies Lancôme Hypnose Mascara, and then layers on MAC Zoom Lash on top. Another option for thick and lustrous lashes MAC mascara in Haute Couture, which has an adjustable wand with the option of light or heavy applications! Kim always uses a separator brush to prevent clumps, and only wears false eyelashes for photo shoots because she's clueless when trying to apply them.
10.
Kim lightly lines lips with MAC Lip Pencil Stripdown, then swipes on MAC Lipstick in Angel. Then she applies NARS Turkish Delight Lip Gloss on top. For a very nude matte lip, she lines with MAC Subculture Lip Pencil and tops it off with NARS Velvet Matte Lip Pencil in belle De Jour. Another great lipstick is Avon's Ultra Colour Rich Lipstick in Coronation.
Check out a step by step Tutorial on how to achieve her smokey eye :